Our Top 10 Most Anticipated Games Of 2013
With 2012 and its mass of three-quels and indie darlings now squarely in the rear view, it's time to look ahead to the brightest lights on the horizons of 2013. What is sure to be one of the most exciting years in gaming history is just now beginning to unfold in front of us, and with promises of next-gen consoles on the horizon, boxes like the Ouya taking television gaming in an entirely new direction, and Valve's Steam box rumored for release this year, it's sure to be a landmark 52 weeks for the industry.
Of course, which console will come out ahead in this autumn's retail race, whether or not Valve's Steam box will be a success, and what titles will be announced between now and the next year we cannot say. Much of what will make 2013 great remains at this point a mystery. 
We can say for sure, however, that the following ten titles should be among the cream of the crop come the end of the year.
10: Dead Space 3
Next month will drag gamers kicking and screaming back into the horrifying world of Dead Space, and we couldn't be more excited. A mysterious new planet unlike anything ever seen in Dead Space pairs with a brand new co-op mode to ignite our hype drive for this sci-fi shooter, but it's the smooth shooting controls that have us chomping at the bit to start lopping off Necromorph limbs for a third time. Dead Space and its sequel were among this generation's best, and we fully expect the third iteration to continue this trend.
9: Tomb Raider
Tomb Raider is reinventing itself courtesy of talented developer Crystal Dynamics, and seems to be taking all the right cues from Uncharted and survival fiction like The Hunger Games. But with a more mature tone than either of those properties lending its hand to the depiction of Lara's transformation from soft survivalist to hardened killer, we're more excited than ever to raid some tombs come February.
8: Amnesia: A Machine for Pigs
The original Amnesia was one of the scariest games of all time, so it is with a mixture of thrill and trepidation that we anticipate its follow-up. Whether or not we're ever able to finish this sequel, you can be sure that we'll have a pants-wettingly good time creeping and crawling through as much of it as we can bear. The fact that the creator of the superb Dear Esther is onboard for the creation of A Machine for Pigs just adds to our anticipation.
7: Star Wars 1313
One part Star Wars, one part Uncharted, Star Wars 1313 promises a mature take on the mythos we have all come to know and love punctuated with eye-popping setpieces. A next-gen game for sure, 1313 dropped jaws at last year's E3, and we expect to see even more of it this summer.
6: StarCraft II: Heart of the Swarm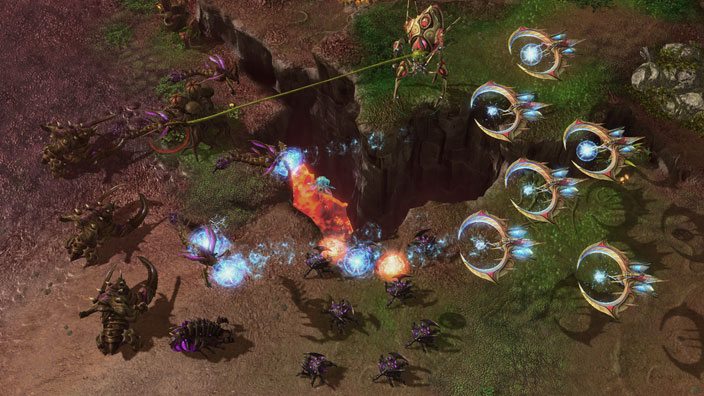 The follow-up and expansion to one of the best, most addictive RTS games of all time, Heart of the Swarm has big shoes to fill, but we're confident that Blizzard's latest will meet all of our expectations and more when it releases in the Spring of 2013. After all, no studio is known for such meticulous balance and attention to detail as Blizzard, and its that pedigree that should take this expansion to the next level.
5: The Last of Us
Stunningly beautiful, brutal and yet touchingly humane in the most subtle of ways, Naughty Dog's The Last of Us looks to be the talented developer's magnum opus when it releases this May. Combining all of their experience from the Uncharted games, which themselves were among the best games of this console generation, with a newfound penchant for human drama, The Last of Us promises a whole new realm of video game storytelling potential. Let's just hope that the game can live up to that staggering potential.
4: The Elder Scrolls Online
Combining Skyrim's vast worlds and penchant for environmental storytelling with an MMO's huge player counts and community features sounds like a recipe for one of the best role-playing games of all time. Only time will tell if Bethesda's first MMO will live up to its potential, but for now we have no reason to believe it won't. 
3: Watch Dogs
Another next-gen release for sure, Watch Dogs might just be Ubisoft's most high-profile franchise going into the next five to ten years of gaming. With a futuristic premise allowing players to remotely hack everything from cell phones to traffic lights, Watch Dogs promises a level of control and malleability in its environments that has been seen in very few games up til' now. The future is looking very exciting indeed.
2: Grand Theft Auto V
Grand Theft Auto V should be the biggest game in the controversial series yet, with three playable characters, dozens upon dozens of driveable vehicles, and even wildlife like sharks roaming in the outskirts of the game's California-based setting. And for a series that has made its name on sprawling crime drama, that's no small statement. Although we know little about the game's story, we're already sure that we'll be sinking dozens of hours into Rockstar's latest.
1: BioShock Infinite
BioShock Infinite has quite the pedigree, and looks to surpass it in just about every way possible. The sequel to two of the most renowned first-person shooters of this console generation, Infinite brings to the table another singular world in the form of Coumbia and a cast of characters and enemies at once bizarre and believable. Without a doubt, BioShock Infinite is our most anticipated game of 2013.
Comments (0)
New comments are currently disabled.